The Trip: Mongolia and the Golden Eagle festival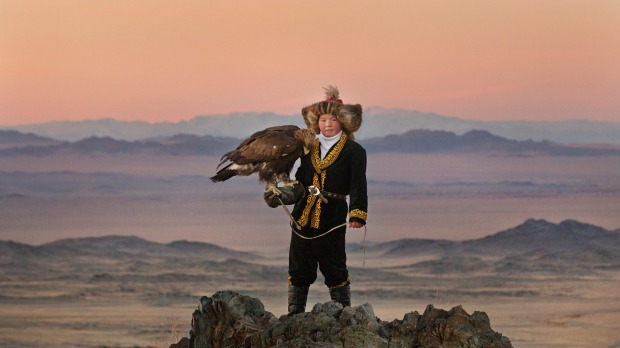 NAME Georgie Brown and Andy McArthur
THE TRIP Mongolia and the Golden Eagle Festival
Who could believe that anything could be so exciting and exhilarating? Our group of eight were in Mongolia, the 18th biggest country in the world, 300 kilometres from China on the Gobi Plains, a vast track of flat grey-green land alongside the Altai Mountains. We were on our way to see the towering Singing Sands of the Gobi Desert and the Flaming Cliffs where American Roy Chapman Andrews discovered the first dinosaur eggs in 1922. Dinosaur fossils of all types were piled on top of one another, giving credence to the Big Bang Theory that saw the dinosaurs' sudden demise. We later visited the Khavtsgait Petroglyphs, exquisite rock sketches of the local animals from the Bronze Age 4000BC-3000BC depicting bactrian (two-humped) camels, ibex, horses, goats, sheep, wolves, yaks, hunters with bows and arrows and hunting eagles
Suddenly, our guide accelerated across the plains. He had spotted a herd of rare black tail gazelles. We ran alongside a little animal. From 60km/h to 80km/h, and still it bounded ahead.

Our accommodation in the Gobi Nomad Lodge comprised roomy gers, round felt-lined tents with heating and private facilities (upon request), and all meals. The food was wholesome salads, and stews. We relished the silence and the stars at night.

We later flew to Ulgii for the Gold Eagle Festival, as seen in the documentary, The Eagle Huntress. More than a hundred traditional horsemen vied to display the best horsemanship, dress and, of course, the skill of their hunting eagles. The star of the movie, Aisholpan, now aged 16, appeared resplendent in white with her hunting eagle.

But not all went to plan. One eagle landed on the wrong horseman, another settled for a nearby barbecue, and Aisholpan had a white camel that sat down in the middle of the camel race and refused to budge.

Tour organiser Nomadic Voyages was without fault. Our guide and drivers were knowledgeable, kind and considerate. The Land Cruisers were new and comfortable. We had plenty of opportunities to visit museums to see the world of Genghis Khan and temples.
BEST BITS: The Golden Eagle Festival, and lunch with a local family, eating Russian caviar and mutton stew with a camel, an eagle, a wolf, several curious yaks and the odd red sheep.
WORST BITS None.
BEST TIP: Prepare for altitude (1980 metres) cold, dry and unavoidably dusty.
http://www.traveller.com.au/the-trip-mongolia-and-the-golden-eagle-festival-gz4c06