Destination Mongolia
Altai Tavanbogd Natural Park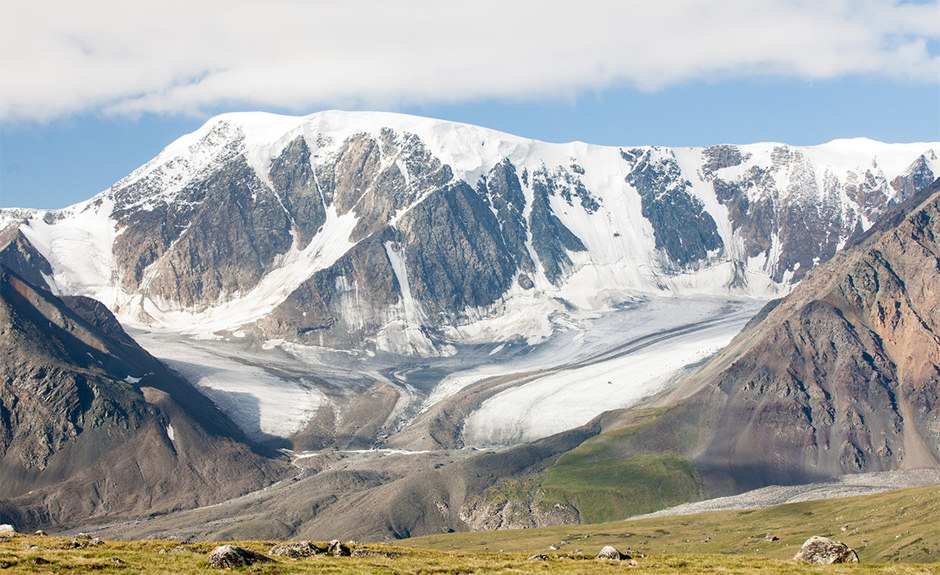 This stunningly beautiful park stretches south from Tavanbogd Uul and includes the three stunninglakes of Khoton Nuur, Khurgan Nuur and Dayan Nuur. It's remote area, divided from China by the high wall of snowcapped peaks, and known to local Kazakhs as the Syrgali region. All three lakes are the source of the Khovd Gol, which eventually flows into Khar Us Nuur in Khovd aimag. It's possible to make rafting trips down river from Dayan Nuur, though no agencies offer this at present. There are many archeological sites in the region. As the main road through the region swings towards the southern shore of Khurgan Nuur you can see a stupa-like construction and several burial sites. Nearby are balbal (Turkic stone statue) and the remains of a processional pathway. Further along the road is a wooden Khazakh mosque, with a ger-shaped roof. Further north-west, along the south-western shore of Khoton Nuur, the road deteriorates and there are several rivers ro cross as they flow into the lake. North-west of Khoton Nuur the mountain close in the there's some fine trekking possibilities.
Tavanbogd (Five Saint) mountain rises 4374m above the borders of three nations, and for this reasons it is also known as Nairamdal (Friendship) Peak. If you it on the summit, you can simultaneously be in Mongolia, China and Russia. Tavanbogd is one of Mongolia's most spectacular peaks, of interest to professional climbers, and the only one in Bayan Ulgii to be permanently covered with large glaciers (including the 19 km long Potanii Glacier, the longest in Mongolia). It's fairly dangerous, and to climb it you need to be with an experienced group properly equipped with ice axes, crampons and ropes. Don't even consider attempting it solo. The best time to climb us July, August and September, after the worst of the summer rains. The massif is made up to five peaks (the five saints)- khuiten, Naran, Olgii, Buraed and Nairamdal – the highest of which is Khuiten (meaning 'cold') at 4374m.
Erdene zuu monastery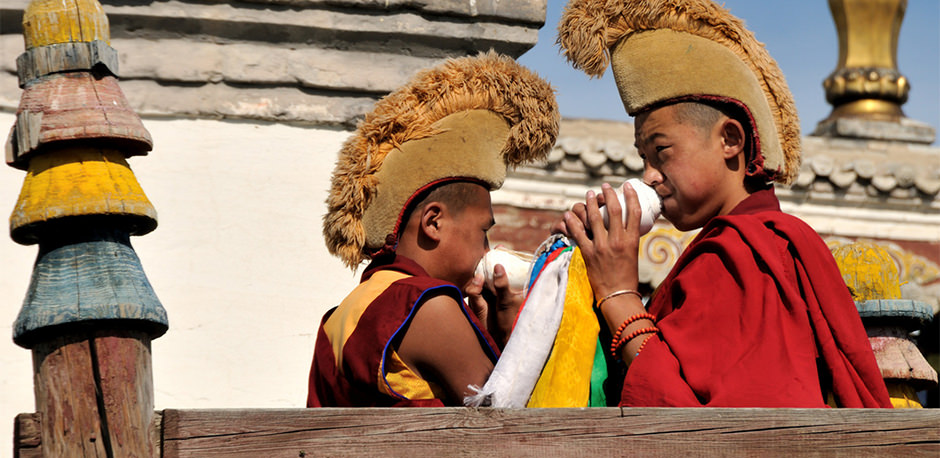 The Erdene Zuu monastery (Mongolian: Эрдэнэ Зуу) is probably the most ancient Buddhist monastery in Mongolia. It is in Övörkhangai Province, near the town of Kharkhorin and adjacent to the ancient city of Karakorum. It is part of the World Heritage Site entitled Orkhon Valley Cultural Landscape.
The monastery was built in 1585 by Abtai Sain Khan, upon the introduction of Buddhism into Mongolia as the state religion. Stones from the ruins of Karakorum were used in construction. It is surrounded by a wall featuring 108 stupas, 108 being a sacred number in Buddhism, and the number of beads in a Buddhist rosary. The monastery was damaged by warfare in the 1680s, but was rebuilt in the 18th century and by 1872 had a full 62 temples inside.
In 1939 the Communist leader Khorloogiin Choibalsan had the monastery ruined, as part of a purge, that obliterated hundreds of monasteries in Mongolia and killed over ten thousand monks. Three small temples and the external wall with the stupas remained; the temples became museums in 1947. They say that this part of the monastery was spared destruction on account of Joseph Stalin's pressure. One researcher claims that it was U.S. President Franklin Roosevelt who asked Stalin to save the monastery in 1944.
Erdene Zuu was allowed to exist as a museum only; the only functioning monastery in Mongolia was Gandantegchinlen Khiid Monastery in the capital, Ulaanbaatar. However, after the fall of Communism in Mongolia in 1990, the monastery was turned over to the lamas and Erdene Zuu again became a place of worship. Today Erdene Zuu remains an active Buddhist monastery as well as a museum that is open to tourists.
On a hill outside the monastery sits a stone phallus. The phallus is said to retain the sexual impulses of the monks and ensure their good behavior.
Terkhiin Tsagaan Nuur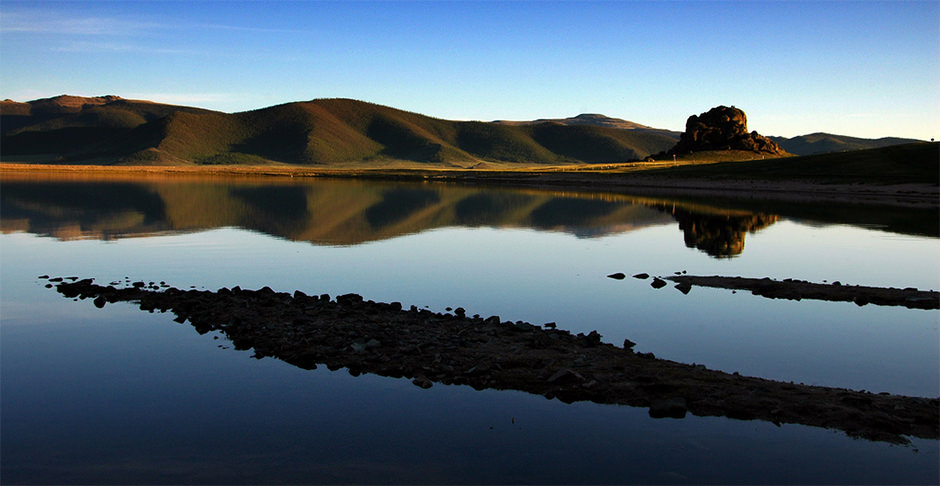 Khorgo volcano – a dead volcano (2240m high) covered with basalt is easy to climb. Inetersting bubbles of solidified lava named "Basalt ger" containing sometimes ancient rock paintings. From the crater you have a good view to Terkhiin Tsagaan Nuur which is rich of fish and different birds are breeding here. As the lake is 2060 above sea level, it is frozen until June.
Bayanzag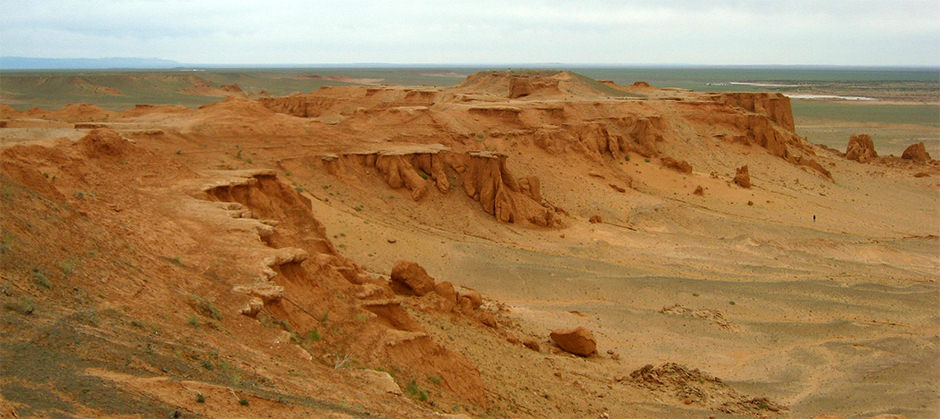 Flaming cliffs known as Flaming Cliffs is located 20 kilometers far from Bulgan soum, where 70 million years ago a lot of Paleontological findings have been discovered. The place is known as Flaming Cliffs so named by Roy Chapman Andrews American explorer who had visited Mongolia in 1922. During two years he searched through the Mongolian Gobi Desert and he found dinosaur fossils and dinosaur eggs about 10-15 cm from the Bayanzag for the first time ever the world. The name Bayanzag derives from a picturesque forest in the area. Archeologists also claim the area has myriad of unearthed object from the Stone Age.
Karakorum

Ancient capital of Mongolia Karakorum city was located on the right bank of Orkhon River and on the north-eastern slopes of the Khangai Mountain and founded by Chinggis khan in 1220, was not only the capital of the vast Mongolian Empire but the epicentre of trade along the Silk Road. At that time the inhabitants of city were mostly Merchants craftsmen who came to karakorum from all over the world. Khubilai khan moved to the capital of the Mongolian Empire to China, establishing the Yuan Dynasty, began losing its importance. In 1379 much of the city was badly damaged during an attack by the army of the Min Dynasty. Turtles carved from the stone marked the boundaries of the complex. Nearby, Turkish monuments and rock inscription were erected in 8-9th centuries in memory of outstanding fighter for independence. World famous for its wonderful ancient remains, Karakorum is located 370 km away from Ulaanbaatar with an elevation of 1600 meters above sea level.
Khongor sand dune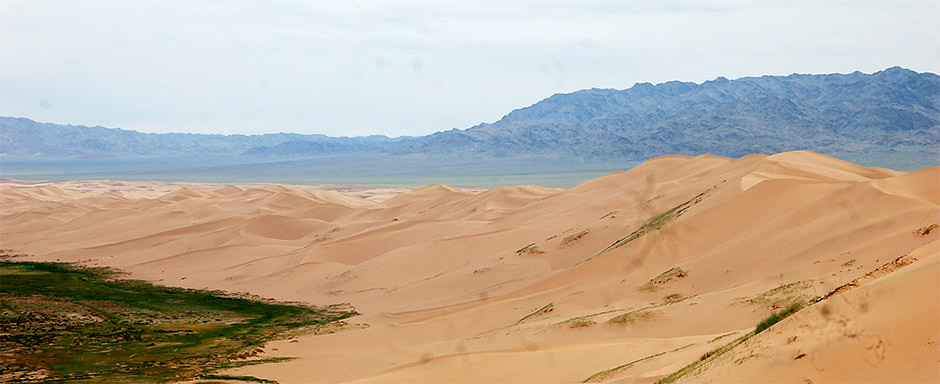 These sand dunes are located to north of the Baruunsaikhan Mountainss and in the northern part of the Sevrei and Zuulun Mountains, about 200 kilometers west of Dalanzadgad in Sevrei soum. They extended for 180 kilometers. From distance it looks like a fin of huge gold fish. You have chance for camel riding tour is available at the area nearby the sand dunes. The shifting sand blown by the wind or someone makes sound so it is called Singing Sand Dunes. There is beautiful green oasis known as Seruun bulag near the Khongor River.
Taikhar Stone
The nondescript town of ikh Tamir is 22km along the main road west of Tsetserleg. The reason to stop here is to inspect the enormous Taikhar Chuluu rock formation. The rock is the subject of many local legends; the most common one is that a great baatar, or hero, crushed a huge serpent here by hurling the rock on top of it. Locals claim there are some ancient Tibetan inscriptions on the rock, though you will be lucky to spot them through 30 years of Mongolian graffiti. There is even an ovoo at the top.
Baga gazriin chuluu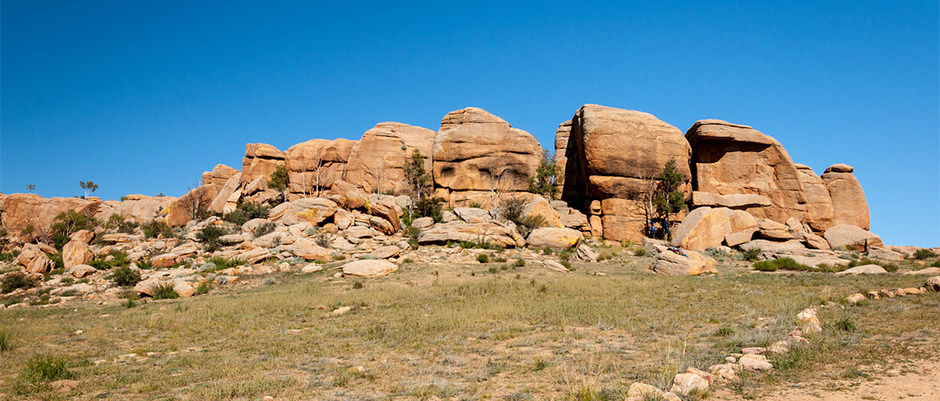 This is another granite rock formation in the middle of the dusty plains. In the 19th century, two revered monks lived here in gers – remnant of their rock drawing can be found in the area. The rocks are worshipped by locals who sometimes make pilgrimages here. Naturally, there is legend that Chinggis Khaan stayed at the rocks. Five Kilometers away, the highest peak in the area, Baga Gazriin Uui (1768m), will take about five hours to climb. The mountain also contains a cave with an underground lake. The mineral water spring and trees in the region make it a great spot to camp, and there are plenty of rocky hills, topped by ovoo (sacred pyramid – shaped collections of stone and wood), to explore.
Yolyn Am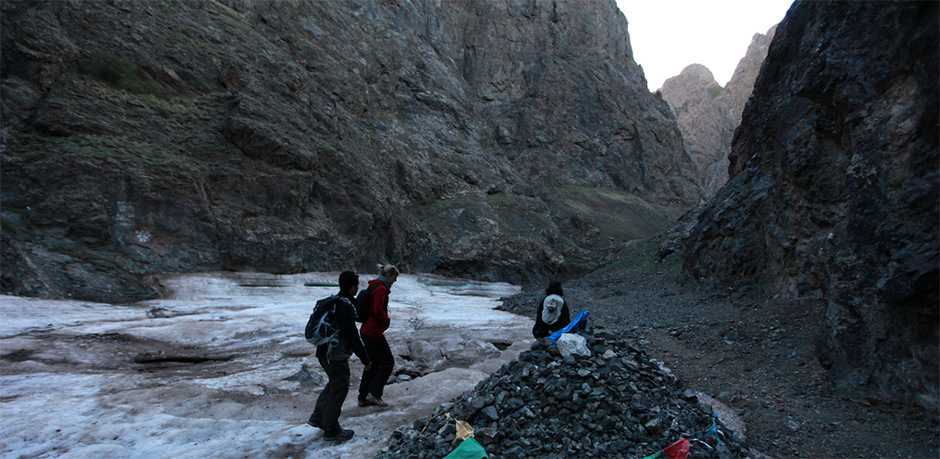 The valley in the Zuun Saikhan Mountain located 45 kkm from Dalanzadgad, in the center of South Gobi aimag, is called Yolyn Am. Very wide at the entrance, it narrows gradually into a remarkable gorge. The narrow Valley between high rock walls has breathtaking dramatic scenery, and no doubt is one of the most beautiful place in the country. You have a big chance to see wild animals such as ibex and wild sheep of course see the vultures.
Orkhon waterfall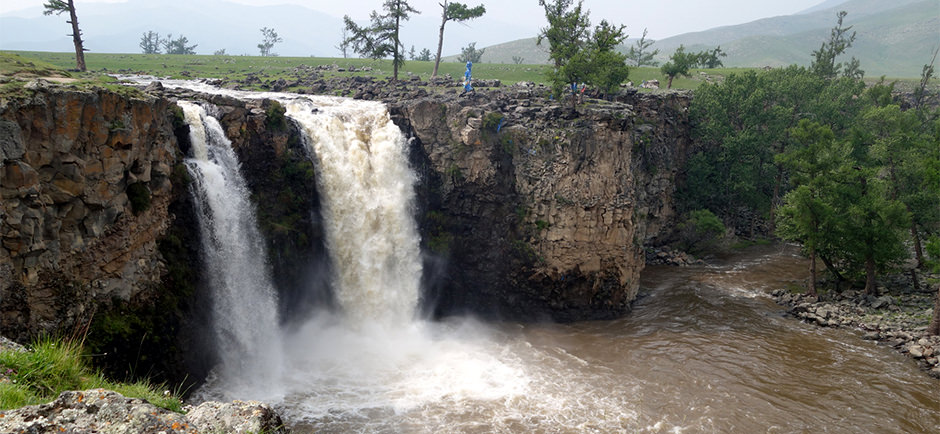 Apart from the springs at Khujirt, the main attraction in the area is the Orkhon waterfall (GPS: N46 47.234', E 101 57.694'). The waterfall is situated in the historically significant Orkhon Valley, whose river flows an incredible 1120km to the North before it joins the mighty Selenge Gol. Also called Ulaan Tsutgalan, the waterfall was formed by a unique combination of volcanic eruption and earthquake about 20.000 years ago the fall is naturally most impressive after heavily rain.
Khuvsgul lake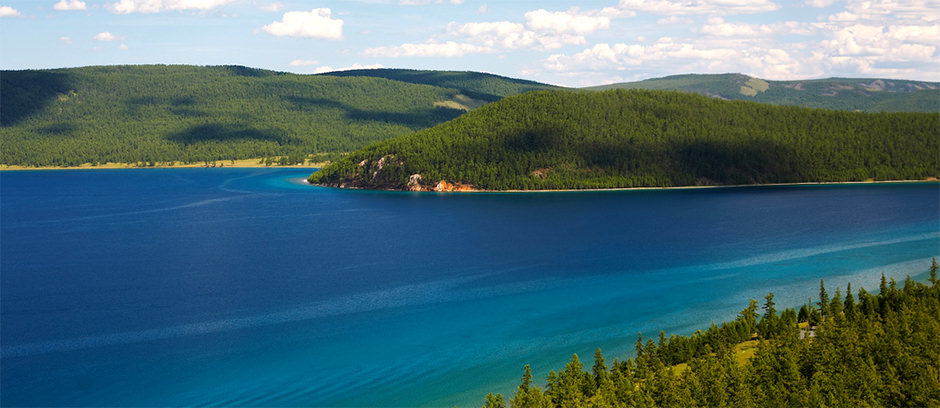 Mongolia's northernmost province, Hovsgol is also, without doubt, it's most beautiful. Wooded hills give way to valleys covered with wild flowers which in turn lead to the clearest crystal rivers and freshwater lakes, filled with Taimen and Lennock and home to an abundance of birdlife. At its centre lies Lake Hovsgol, known to the nomads who live near her shores as mother and sometimes referred to as the sea. Hovsgol is also home, not only to Mongolian nomads, but to the reindeer herders of the Darkhat Valley who live in yurts, which are similar in design to the American Indian tepee. Central to this group is the Shaman Lady, a tribal elder who dispenses wisdom and medicine to her clan.
Gurvansaikhan Natural Park

Stretching from the border with Bayan-khongor almost to Dalanzadgad, the 2.7 million hectare Gurvansaikhan Natural Park is the highlight of the aimag, and the overwhelming reason why any toutist comes here, unlike other national parks in the Gobi, the Gurvansaikhan, does contain a few attractions, and its facilities – ger camps and roads are reasonably good. Gurvansaikhan, which means the 'three beauties' and refers to its three riders, contains mountains, dinosaur fossils, sand dunes, rock formations and a valley which, incredibly, has ice for most of the year. The park also contains over 200 species of birds, including the Mongolian desert finch, cinereous vulture, desert warbler and houbara bustard. Spring brings further waves of migratory birds. The park also has maybe 600 or more types of plants (a lot of which only bloom after very infrequent heavy rain). The sparse vegetation does manage to support numerous types of animals.
Ulaanbaatar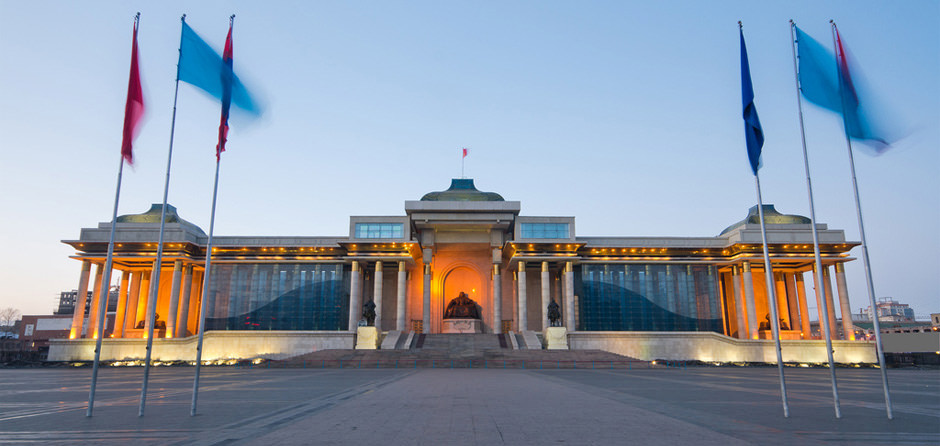 Mongolia is located in the heart of central Asia and her image is often associated with endless steppes, Gobi desert, nomadic lifestyle, horse-based culture and herders wandering around beautiful contractive natural zones of Gobi desert flat steppes and sub-arctic and mountainous areas. Some country people may associate Mongolia with the Chinggis khan who was conquered half of the world on horseback. In the last century Mongolia was a socialist country, yet it has been almost 20 years since Mongolia embarked on a path to building democracy, in the past two decade, Mongolia has changed significantly.
Ulaanbaatar used to nick name Asian white princess due to clean and fresh atmosphere. Yet the city is today changing its look faster and expending bigger. The modern Mongolian capital city has a long history along with evolution of modern Mongolian national state. When the Mongol empire Karakorum was abandoned, Urguu city for the first religious leader of Mongol, Bogd Zanabazar was founded in 1639 firstly along the valleys of orkhon, Selenge and Tuul rivers 400 km far from current location since then Urguu changed its name several times Ikh huree, Niislel khuree and Ulaanbaatar after moving over 20 times until it rests at the current spot in late 18th century. However, following People's revolution of 1921 with support from Red Russia with first Great State Khural held in 1924 has ratified the first socialist constitution of Mongolia and renamed the capital city as Ulaanbaatar (meaning red hero). Ulaanbaatar is located at about 1350 meters above sea level slightly east of the center of Mongolia on the Tuul River. a subtributary of the Selenge in a valley at the foot of the mountain Bogd Khaan uul. The territory of the Ulaanbaatar covers 1.35.800 hectars and is divided into nine administrative and territorial districts: such as nalaikh Bayanzurkh and so on. To view the whole city, the zaisan memorial would be a best spot for enjoying panoramic scenery. This hilltop memorial was erected in 1971 for the 50th anniversary of People Revolution as dedicated to Soviet soldiers who lost lives during World War ll. The Gandandegchilen monastery is crowdest site and favorite among both tourists and local Mongolians. This monastery dedicated to V Living Bogd Khan, the religious and political leader and constructed in 1738. The monastery keeps substantial collection valuable and rare manuscripts, historical, religious and cultural artworks and items for centuries. For instance: golden and silver Buddhist manuscripts, paintings and appliques with unique Mongolian traditional styles and images. The monastery houses one of giant standing Buddhist statues in the world. The statue is called Migjid Janraisag a tara of compassion and peace was built with donations from Mongolian people as symbol of Buddhist revival. It is recognized as outstanding artwork made of copper gilded with the gold and decorated with precious stones. Another giant Buddha stands outdoor at the foot of zaisan memorial in the south of Ulaanbaatar. It symbolizes that this living Buddha is blessing the whole city and its people. Bogd khan museum is another famous tourist attractive spots of Ulaanbaatar. Built in late XIX century, the Winter Palace of last religious leader preserves a number of Buddhist artworks and private collection of Bogd Javzan Damba such as gifts from heads of states worldwide, jewelry, an exclusively decorated traditional ger etc. Stepe-wantering nomadic Mongols were famous for their unique performing arts such as extraordinary melodies of long-songs huumii (throat singing) and morin khuur (horse headed fiddle) featuring endless steppe. Nowadays it is possible to enjoy blends of such as heritage from performances of National Song and Dance and Ensemble and bands Tumen Ekh and Sarnii chuluu.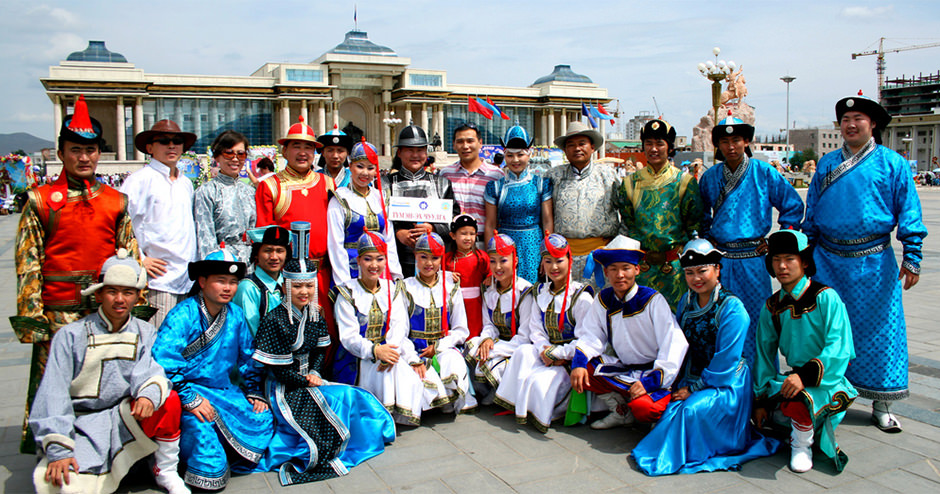 In Ulaanbaatar there are some major hotels with 3 to 5 stars offering services in line to international standards. For instance: Ulaanbaatar hotel, Chinggis khan hotel and Bayangol hotel to names few famous ones. Of course anyone who comes to Mongolia certainly has desire and curosity to taste traditional food and dishes. Mongolians traditionally consume nomadic-style food of larger portion of meat along with dairies. They fond to eat wild onions, garlic, berries and beans to satisfy to needs of vitamins, since their lifestyle is always constant journey. Nomads even invented a method to brew vodka from milk. In Ulaanbaatar, some Mongolian-type restaurants such as khaadiin urguu and modern nomads offer original tastes of traditional dishes. There is luxurious ger camp named Mongolian hotel within natural settlings in Gachuurt, not far from ub. In center of Mongolian hotel complex there is a silver tree a replica of the original one which once stood in front of the main gate of Khaan palace in the ancient Karakorum city in the XIII century, in the olden days, from the top the tree five kind of treasureous drinks used to pour down to a huge pot to let Karakorum residents, refresh themselves. The Mongolian hotel ger camp site starts from the tree and the path takes you to Mongolian traditional ger equipped facilitated as de luxe hotel accommodation. The ger made with bricks and stones designed with modern comforts that make the accommodation atmosphere very exclusive and original. Many Mongolians choose the ger. This type of ger and camps and holiday inns are nearby Ulaanbaatar and across Mongolia. There many tourist-attractive beautiful natural landscapes around the country. One of such beautiful place is Gorkhi Terelj National park located in the east 70 km from ub. There are a number of ger camps in the beautiful natural settings within this park area. Some ger camps are well-established with the luxurious facilities as if you are in urban upscale hotels, while enjoying golf, horse riding and hiking in the pristine alpine meadows.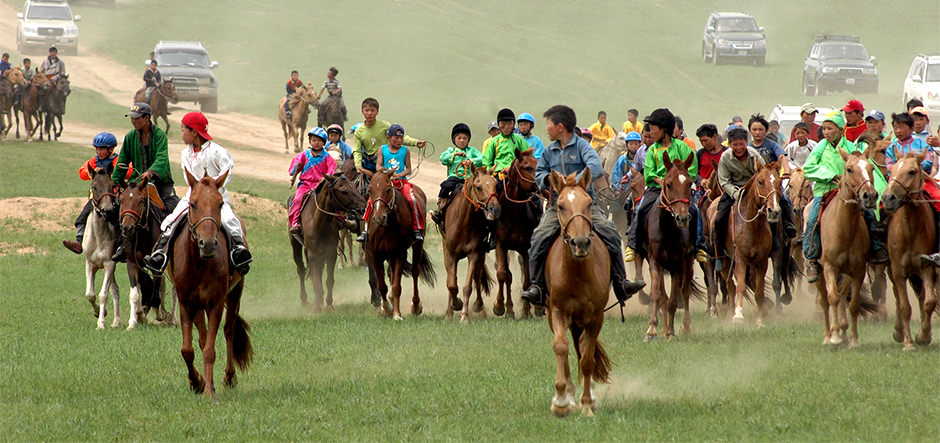 There is place named Tsonjin Boldogin Erdene soum, Central province, 53 km in the east from ub. In 1177 Temujin (maiden name of Chinggis khaan) found the horse whip hearby hilltop of Tsonjin Boldog, while going on the way home with his brothers Khasar and Bilgutei after giving a sable gown to Tooril king. A top of this small hill just in the middle of open land a huge horse riding Chinggis khan statue stands looking over the vast land ahead. This giant monument is 40 meters in height housing a museum concert halls, restaurant, bars and conference room souvenir shop inside the foundation. Over 205 tones steel is used to build the statue. The round foundation stands on 36 poles supporting the monuments beneath. Yet 36 symbolize 36 great khans in Mongolian history. The arrangements inside the foundation premise is superb like visitors may embark on the elevator through the horse body and neck to reach atop of the horse head and view surrounding area miles and miles away in all directions. Khan khentii mountain where chinggis khan was born is seen very close from distance. Soon you can see stars and planets through kaleidoscope which will be installed in a while SUM (temple) tourist camp is located in the east 56 kilometer from Ulaanbaatar in the beautiful forested valley. The camp has capacity of 70 beds in 19 gers; of them golden ger and silver ger operate throughout the year in the deluxe environment and comforts equipped with separate toilets and showers and windows to view beauty of surrounding natural settings. The ger camp also offers special ceremonial events featuring tsam mask dance, folklore performing arts, small-scale naadam, horse festival, yak feast, visiting nomadic ger, firework, laser shows etc. There is another interesting place a few kilometers away from here. XIII century ger camp is located in nearby Yol (vulture) mountain where people with the medieval age clothes and hairdos. In this small unusual tribal clan, you can not use and carry modern electronic devices such as cell phones, computer, flashlights electricity or even everything is in strict order. There are several tribe encampments. In blacksmiths tribe you will see blacksmiths would be processing iron or producing artwork on leather. While in erudite s tribe will be reviewing manuscripts practicing calligraphy. Herder tribes are normally breeding five types of domestic animals and producing animal products, such as processing wool and cashmere, making skin ropes, whips or garments. In other word possible to see nomadic lifestyle its originality. Shaman tribe will offer many dramatic performances such as tsam, mask dance and shaman enchanting to call transcendental spirits. Royal tribe is also very interesting and unique. You mat feel like to have visited royal palace. It is amazing that visitors have to change their currency notes with the medieval age type money if they want to buy something here. XIII center ger camp also offers a number of special traditional events and festivities, including worshipping victory flags, offering sacrifice to the sky, weddings, assembling a ger celebrating newborns births, imprinting young horses, three manly games wrestling, horserace and archery. Therefore the tourist camp let visitors to feel the taste and atmosphere of Mongolian history, traditional culture and lifestyle customs. Every year Mongolians celebrate Naadam the biggest national festival across the country. Naadam is traditionally combination of three manly games wrestling, horserace and archery. In the olden days Mongols especially soldiers celebrate their victory sometimes as training their fighting strength, skills and spirits by organizing these three types of sports. Besides, the games were used to be held for memorial celebration, annual sacrificial rituals, honoring mountains and praying the sky and community events in the modern days. Naadam officially commemorates anniversary of Mongolian people Revolution of 1921. The ger is typically associated with pastoral nomadism, nomadic lifestyle and horse based culture of Mongols. The Mongolian ger camp has been an important part of nomad property and lifestyle, as developed and adapted suitably to lifestyle, traditional culture and climate. Ger has extraordinary architectural designs and solutions within its portability, environmentally friendly functions.
Wooden frames include wall sections, roof poles, floors rooftop, and pillars. Deel Mongolian traditional costume has changed less since the age of the Mongol Empire. Because it is supremely well-adapted to nomadic lifestyle and weather conditions. Deel has typical designs a long loose gown with sleeves, a high collar and belted with a sash. However different Mongolian ethnic groups have deels distinguished with specific cut color hat and accessories. In the modern days Mongolians prefer to wear quite liberalized deels heavily mixed with western styles. Tourists coming to Mongolia are likely to get attracted to Mongol as nature: endless Gobi desert and sand dunes stretching miles in horizons. Blue mountain in the distant background behind the plain steppes, pristine blue sky refreshing mind and definitely unique nomadic lifestyle within such natural settings. However overseas visitors normally stay in and pass via Ulaanbaatar to visit Mongolia. Ulaanbaatar definitely offers a special tour to know the city itself as well as to understand the Mongolian history and culture to carve never to be forgotten in ones minds. Mongolian people who are appreciated with their amazing hospitality and friendliness like their abandoned vast land waiting for your visit.